This page will be for model rockets. Another one of my hobbies little enjoyed here in uptight California but achievable through long drives to distant locations allowed by the is state.
Back 10 years ago I started a kit company called "Hostile Projectiles". I was unable to pursue it much as I was taking care of my late wife. I have always been building and flying model rockets since the 60's. My first love.
Years later I am rediscovering many of my old hobbies from flight to slot cars. Recently Joe Benard inspired me to pick it up again. You should see what he has done. What and inspiration. https://bps.space/ visit his website.
Here are a few pictures of my old models I built back in 2008-9. Some are scratch built and were sold as kits.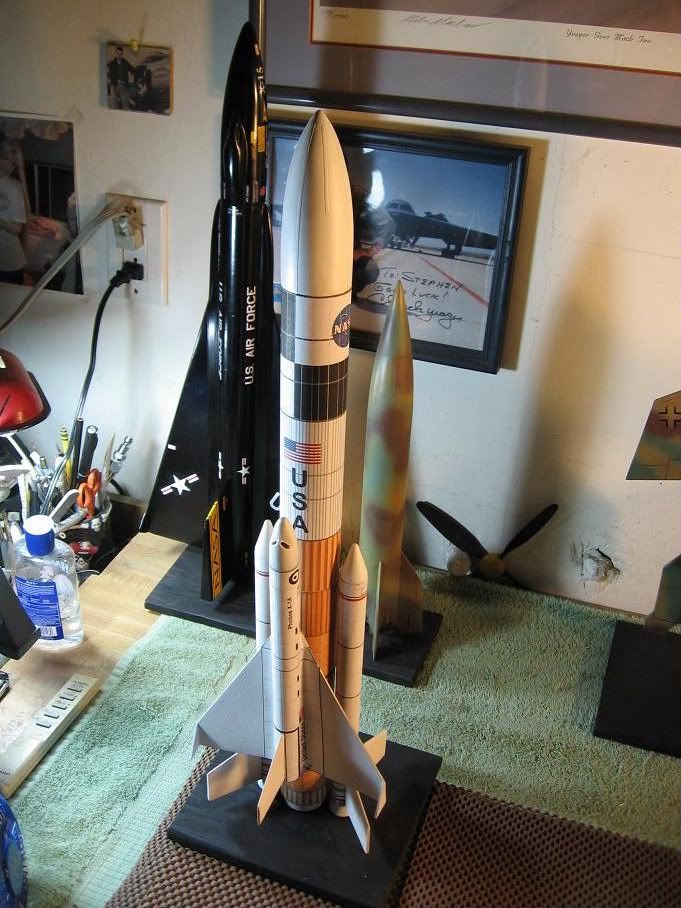 The Mercury Redstone and the Rocket boosted glider were both scratch builds as is the German rocket plane. I'll take more pictures of others I have built that are in my show room at the studio today. Time to fly these.
X-15 Delta wing concept is a scratch built and I sold several kits of this rocket plane. All flew well.
Large Estes Pro series rocket I'm back working on for it's maiden flight.
Costumer built kit from my old model kit company.
My Estes V-2 ready for flight. This has been finished for 4 years. Time to fly.
Estes Little Joe 1 8-24-19
I have always loved the little Joe's especially the Mercury series. I started building this today for a few hours and got her framed up. Great kit. Great scale rocket build.
Little Joe is coming along. So is the Redstone but currently most of my efforts are going to the Zephyr.
8-31-19 Zephyr Build update
Progress pictures. The rocket builds fast but the finishing wok and fancy paint job always takes the longest. Body is filled and has primer. Lots of it to sand down smooth. Under it is filler to get rid of the tube lines. Nose cone is painted gloss black.
Next to pint the body gloss white.